Violet Evergarden awalnya adalah sebuah serial light novel yang ditulis oleh Kana Akatsuki dan diilustrasikan oleh Akiko Takase. Novel ini kemudian memenangkan hadiah utama dalam Kyoto Animation Award kelima kategori novel pada tahun 2014, karya ini merupakan yang pertama kali memenangkan tiga kategori sekaligus yaitu (novel, skenario, dan manga). Kyoto Animation mempublikasikan light novel pertama pada 25 Desember 2015. Dan selanjutnya, light novel ini akan diadaptasi menjadi serial anime televisi yang digarap oleh Kyoto Animation dan akan ditayangkan perdana pada bulan Januari tahun depan, dengan beberapa pemutaran awal yang diadakan di tahun 2017 ini.
Pada hari Rabu 14 Juni 2017, telah keluar suatu kabar dari situs resmi anime Violet Evergarden, situs itu mengumumkan bahwa acara Anime Expo akan menjadi tuan rumah untuk penayangan perdana episode pertama anime tersebut. Kabarnya, Direktur Taichi Ishidate, aktris suara Yui Ishikawa (pengisi suara Violet Evergarden), dan penyanyi lagu pembuka TRUE akan memiliki sebuah sesi spesial Q&A bersama dengan penayangan episode pertama anime ini pada tanggal 2 Juli mendatang. Selain kabar di atas, situs anime ini juga memperlihatkan video promosi pertama ditambah dengan key visual terbaru: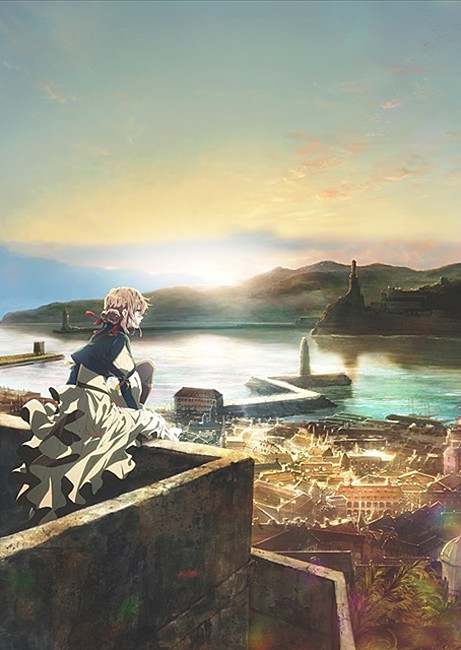 Kyoto Animation mengumumkan proyek anime berdasarkan novel Violet Evergarden karya Kana Akatsuki dan ilutrator Akiko Takase ini pada bulan Mei 2016 dan telah memiliki dua video promosi (di bawah) dari sang direktur dan storyboard artist Taichi Ishidate. Takase menjabat sebagai desainer karakter dan direktur animasi untuk video tersebut. Tidak hanya Takase, Ishidate juga kembali untuk berkontribusi dalam proyek anime ini dan Reiko Yoshida (Yowamushi Pedal, Bakuman) akan bertanggungjawab atas komposisi seri. Sedangkan Yota Tsuruoka (Free! – Iwatobi Swim Club, K – On!, The Melancholi Haruhi Suzumiya) akan mengawasi bagian suara.
Sinopsis Violet Evergarden
Arena sinopsis. Ada kata-kata yang Violet dengar di medan peperangan, yang tidak bisa dia lupakan. Kata-kata itu diberikan kepadanya oleh seseorang yang dia sayangi, lebih dari siapapun. Namun dia belum mengerti apa arti dari kata-kata itu.
Suatu ketika, di benua Telesis. Perang besar yang membagi benua itu menjadi Utara dan Selatan telah berakhir setelah empat tahun, dan orang-orang menyambut sebuah generasi baru.
Violet Evergarden, seorang gadis muda yang sebelumnya dikenal sebagai "senjata", telah meninggalkan medan peperangan untuk memulai kehidupan barunya di CH Postal Service. Disana, Violet sangat tersentuh oleh karya "Auto Memories Dolls", yang membawa pikiran orang-orang dan mengubahnya menjadi kata-kata.
Violet kemudian memulai perjalanannya sebagai sebuah Auto Memories Doll, dan berhadapan langsung dengan berbagai emosi dan bentuk cinta yang berbeda. Sambil mencari apa arti dari kata-kata itu.
Baca juga: Kumpulan anime lengkap
Konvensi Anime Expo tahun ini akan berlangsung dari 1 Juli hingga 4 Juli di Los Angeles Convention Center. Konvensi tersebut akan menjadi tuan rumah world premieres untuk anime movie Cardcaptor Sakura: Clear Card-hen Prologue – Sakura to Futatsu no Kuma (Cardcaptor Sakura: Clear Card Arc Prologue: Sakura and the Two Bears), Tokyo Ghoul live action, anime televisi Welcome to the Ballroom, anime televisi Infini-T Force, dan anime spesial Fate/Grand Order: First Order dubbing Inggris. Tidak hanya itu, Anime Expo di Los Angeles Convention Center tersebut juga akan menjadi tuan rumah dari U.S. premiere untuk anime movie Gekijōban Mahōka Kōkō no Rettōsei: Hoshi o Yobu Shojo. Dan Crunchyroll juga akan menayangkan sebuah preview untuk tiga episode awal dari serial anime  Mahou Tsukai no Yome.
Sumber: ANN, Crunchyroll