Karakter Pemeran Fate/Apocrypha. Situs resmi anime yang terlahir dari novel garapan TYPE-MOON dan Yuichiro Higashide berjudul Fate/Apocrypha telah mengungkapkan karakter baru untuk pemeran para Master, serta video promosi baru dan sebuah tema baru pada Minggu 18 Juni 2017. Anime bergenre action, fantasi ini memiliki tiga tema komersial, tema kedua yaitu dalam video "Black Faction/Red Faction". Dan video "Opening the Holy Grail War" merupakan tema ketiga dan terakhir untuk anime ini. Untuk lebih jelasnya, simak nama-nama pemain beserta karakter Master di bawah ini:
Kenji Nomura sebagai Kairi Sisigou (Shishigō)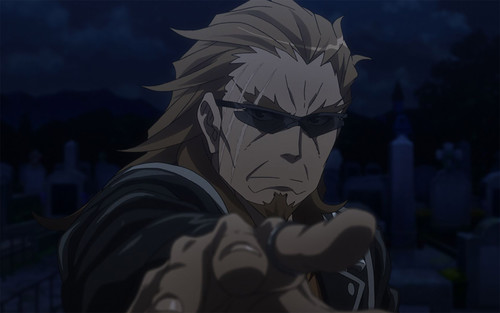 Nobuyuki Hiyama sebagai Darnic Prestone Yggdmillennia
Chinatsu Akasaki sebagai Fiore Forvedge Yggdmillennia
Yūsuke Kobayashi sebagai Caules Forvedge Yggdmillennia
Toru Ohkawa sebagai Gordes Musik Yggdmillennia
Shizuka Ishigami sebagai Celenike Icecolle Yggdmillennia
Emiri Katō sebagai Roche Icecolle Yggdmillennia
Mai Nakahara sebagai Reika Rikudou
Cerita dalam Fate/Apocrypha  bertempat di dunia paralel seperti dalam Fate/Stay Night, dimana Holy Grail War telah dihapuskan dari kota Fuyuki setelah Holy Grail War ketiga, dengan demikian peristiwa-peristiwa dalam Fate/Zero dan Fate/Stay Night tidak pernah terjadi. Cerita berfokus pada dua fraksi yang saling bertentangan, fraksi Merah dan Hitam, masing-masing golongan memanggil tujuh Servant dan Grail sendiri memanggil Servant spesial kelas "Ruler" sebagai penengah antara kedua belah pihak dan pengawas Holy Grail War itu sendiri. Fraksi Merah adalah para penyihir yang dikirim oleh Asosiasi Sihir Clock Tower, sementara Fraksi Hitam adalah anggota dari kelompok penyihir Romania bernama Yggdmillennia.
Harus baca !!! Kumpulan sinopsis Anime terbaru
Sinopsis Fate/Apocrypha
Dahulu kala, Holy Grail War terjadi antara tujuh penyihir yang dibantu oleh masing-masing Servant mereka. Namun, akibat kekacauan dari Perang Dunia II, seorang penyihir mengambil Grail secara paksa. Sepuluh tahun kemudian Yggdmillennia menjadikan Grail sebagai sebuah simbol dan keluar dari Asosiasi Sihir, tidak hanya itu, Yggdemillennia juga mendeklarasikan kemerdekaan mereka. Melihat perbuatan tersebut, Asosiasi Sihir mengirimkan kekuatan mereka untuk melakukan perjanjian, namun mereka semua dikalahkan oleh servant yang dipanggil oleh penyihir Romania tersebut. Dengan sistem Holy Grail War yang telah diubah, peperangan yang belum pernah terjadi sebelumnya, dengan tujuh lawan tujuh, lalu, zaman baru untuk Holy Grail War telah terbuka.
Situs remi anime Fate/Apocrypha sebelumnya telah mengungkap key visual kedua di bawah ini: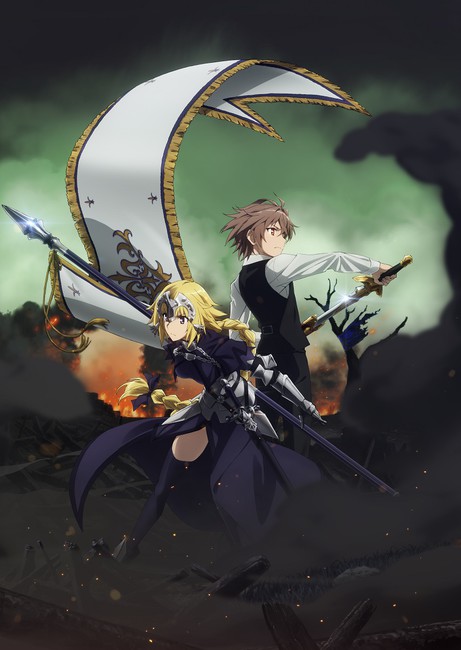 Karakter-karakter Fate/Apocrypha
Maaya Sakamoto sebagai Ruler
Natsuki Hanae sebagai Sieg
Junichi Suwabe sebagai Saber of Black
Kouki Uchiyama sebagai Shirō Kotomine
Miyuki Sawashiro sebagai Saber of Red
Saori Hayami sebagai Archer of Red
Koji Yusa sebagai Lancer of Red
Makoto Furukawa sebagai Rider of Red
Tetsu Inada sebagai Caster of Red
Satoshi Tsuruoka sebagai Berseker of Red
Kei Shindou sebagai Assassin of Red
Shunsuke Takeuchi sebagai Archer of Black
Ryotaro Okiayu sebagai Lancer of Black
Rumi Ookubo sebagai Rider of Black
Mitsuru Miyamoto sebagai Caster of Black
Ai Nonaka sebagai Berseker of Black
Sakura Tange sebagai Assassin of Black
Higashide sendiri yang akan bertanggungjawab atas naskah serial anime, dan Yoshiyuki Asai (Charlotte) mengarahkan anime di A1-Pictures. Yukei Yamada mengadaptasi desain  karakter orisinal dari Ototsugu Konoe untuk animasi. Kemudian Masaru Yokoyama (The Lost Village, Mobile Suit Gundam: Iron-Blooded Orphans, Nobunaga Concerto) yang menangani bagian musik.
Harus baca !!! Trailer Penayangan Anime Violet Evergarden
Lagu pembuka untuk anime ini akan dinyanyikan oleh EGOIST dengan judul "Eiyū Unmei no Uta" (The Song of a Hero's Fate), dan untuk lagu penutup akan dibawakan oleh GARNiDELiA.
Anime Fate/Apocrypha ini memiliki even screening spesial untuk dua episode pertama yang diadakan di teater Shinjuku Wald 9 Tokyo pada 30 Juni. Kemudian, aktor suara Natsuki Hanae, Maaya Sakamoto, Kouki Uchiyama, Makoto Furukawa, dan Rumi Ookubo juga berpartisipasi dalam sebuah talk show pada even tersebut.
Sumber: ANN