Sinopsistamura.com – Manga Fukumenkei Noise (Anonymouse Noise) adalah serial manga yang ditulis dan diilustrasikan oleh Ryoko Fukuyama. Fukuyama meluncurkan serial ini pertama kali pada April 2013 di majalah Hana to Yume milik Hakushensa di Jepang dan Viz Media di Amerika Serikat. Manga ini akan diadaptasi menjadi serial anime di tahun 2017 sesuai pengumuman pada sampul majalah Hana to Yume pada April 2016. Volume terbaru (volume 11) manga Fukumenki Noise telah diterbitkan oleh Hakushensa pada 20 Desember lalu.
Untuk adaptasi anime sendiri telah menampilkan video promosi melalui situs resmi Fukumenkei Noise pada 28 Desember 2016, dan musik pada video pertama ini dibuat oleh Sadesper Records.
Film live-action untuk serial ini juga telah diumumkan melalui Hana to Yume pada Oktober 2016 lalu. Film ini nantinya akan disutradarai oleh Koichiro Miki bersama dengan Rie Yokota yang akan menulis skenarionya. Proses pengambilan gambarnya telah dimulai sejak November 2016. Dan diharapkan akan ditayangkan pada April 2017 mendatang.
Sinopsis Fukumenkei Noise
Nino Arisugawa adalah seorang gadis yang gemar bernyanyi, dia kehilangan dua orang di masa kecilnya yang sangat berarti, Momo Sakaki (Momo) sebagai cinta pertamanya yang tiba-tiba pergi, dan Yuzuriha Kanade (Yuzu) teman masa kecil yang pernah menulis lagu bersamanya. Keduanya berjanji pada Nino apabila suatu saat nanti mereka akan menemukan Nino kembali dengan nyanyiannya, oleh karena itulah Nino terus bernyanyi agar suatu saat bisa bertemu dengan mereka berdua. Kini Nino menjadi vokalis grup band In Hurry to Shout. Dan Momo akhirnya muncul sekali lagi dalam kehidupan Nino, tetapi di saat yang sama, Yuzu juga bergabung dalam grup band yang  sama dengan Nino sebagai seorang gitaris dan diam-diam menaruh perasaan padanya.
Karakter Fukumenkei Noise
Nino Arisugawa (seiyuu: Saori Hayami). Pemeran (live-action) : Ayumi Nakajo
Seorang siswa sekolah menengah tahun pertama. Alasannya untuk bernyanyi adalah karena dia percaya bahwa suaranya pasti bisa mencapai Momo. Ketika dia terlalu emosional maka otomatis dia akan berteriak, karena itulah Nino selalu memakai masker.
Kanade Yuzuriha (seiyuu: Daiki Yamashita). Pemeran (live-action) : Jun Shison
Seorang penulis lagu sekaligus teman masa kecil Nino yang pernah menulis lagu bersamanya. Dan anggota grup band yang sama dengan Nino sebagai gitaris yang diam-diam menyukai Nino.
Momo Sakaki (seiyuu: Kouki Uchiyama). Pemeran (live-action) : Yuta Koseki
Teman masa kecil sekaligus cinta pertama Nino yang tiba-tiba pindah dan meninggalkan janji mereka berdua. Momo bekerja sebagai composer dibawah nama pena. Sayangnya, dia menyukai permainan kata yang buruk.
Yoshito Haruno (seiyuu: Daisuke Ono)
Seseorang dengan nama panggilan Haruyoshi ini adalah presiden grup band In Hurry to Shout. Dia adalah ketua yang baik dan selalu merangkul anggotanya bersama-sama, dan diam-diam menaruh perasaan pada Miou.
Miou Suguri (seiyuu: Ayahi Yakagaki)
Seorang vokalist band In Hurry to Shout. Dia adalah tipe orang yang blak-blakan, dan menghubungkan segalanya dengan cinta namun, tidak bisa mendapatkan hati Yuzu yang diam-diam disukainya.
Ayumi Kurose (seiyuu: Kenichi Suzumura)
Seorang drummer band In Hurry to Shout. Dia selalu bicara dengan dialek-kansai, dan tipe orang yang tidak pernah berhenti tersenyum. Dan sepertinya mengalami kesulitan dalam hal cinta…
Pemeran Fukumenkei Noise Live Action
Ayumi Nakajo yang berperan sebagai Nino Arisugawa.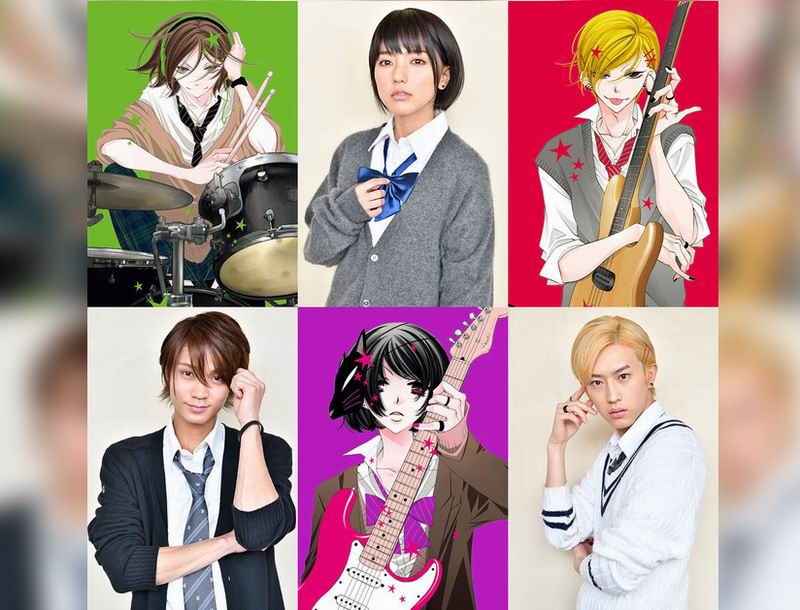 Isomura Hayato (foto kiri bawah) akan berperan sebagai Ayumi Kurose. Erina Mano (foto tengah atas) akan berperan sebagai Miou Suguri. Yosuke Sugino (foto kanan bawah) akan berperan sebagai Haruyoshi.
Jun Shison (kiri) akan berperan sebagai Kanade Yuzuriha. Yuta Koseki (kanan) akan berperan sebagai Momo Sakaki.